HOME
---
Blog Archives
---
Shops
---
Cities
---
Books
---
Factories
---
Technology
---
Essays
---
About Us
---
Contact Us
It's all about the chocolate.
---
November 17, 2006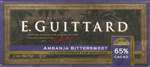 Chocolate Tasting
I recently had a group of chocolate lovers lead me through a tasting session. Yes, I pretended to be in charge, but I think I still learned a lot (as most teachers do). This essay has some good ideas for tastings, lessons learned, and links to recommended sources for chocolates for your own tasting.
---
June 18, 2006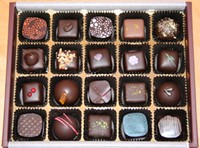 Compartes - Brentwood, CA
Forgive me readers for I have sinned. It has been 30 days since my last confession. Okay, since my last chocolate write-up. We just had a 90+ degree, month-long, heat wave in Boulder, and it is really hard to write about chocolate when it gets that hot. I visited Jin (May 19th) and Compartes the same day in LA, so the write-ups belong together.
---
May 19, 2006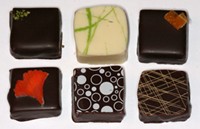 Jin Patisserie
Nestled in Venice, California, amidst the chaos of Los Angeles, is a beautiful little Asian-influenced pastry, tea, and chocolate shop/garden. There is not much space inside the shop, although the pastry splendor is quite large. The garden features seating and waiters, so you can peek at the shop, then settle outside for an Afternoon Tea.
---
May 14, 2006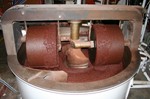 Scharffen Berger is located in Berkeley, California. They were a start-up when I first heard of them. I have toured this factory three times now. Recently acquired by Hershey Foods, they are now a national player in the chocolate world, but they still offer small company tours where you actually get to cross the factory floor.
---
May 13, 2006
Great adventures begin at home. I learned of a new way to make ganache recently and that has started a series of kitchen experiments. It's almost summer in Boulder so I do not do much candy making, but I started this one now because it looked so interesting. The raspberry truffle recipes I know usually require flavoring a basic truffle with Chambourd or other flavoring. Here you can make a Raspberry Ganache with raspberry sauce instead of cream.
---
May 12, 2006
Since I wanted a page for every major category before I went live, I decided to pinch a city page about Boulder, CO from another site of mine. I started with the idea that I would only write about chocolates and created poundofchocolate.com to store that information. I only got a few listings before the new adventure started. The Boulder page is on this site, but if you want to read about Bissinger's Chocolate-Covered Raspberries before July you can go to the other site's page.
---
May 8, 2006
I thought I knew a lot about chocolate. It turned out I had a very small view of the chocolate world. I knew of the major manufacturer's like Hershey's, Guittard, Callebaut, and Valrhona. I knew of the selection of bars in my local store. I had even traveled in this country visiting chocolate shops everywhere I went. Then I read Chocolate - A Bittersweet Saga of Dark and Light by Mort Rosenblum. Suddenly I realized I knew very little, and that a great many adventures lay ahead.
---
May 7, 2006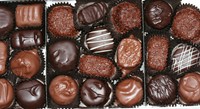 And so begins the web chocolate adventure...
Every chocolate adventure begins in childhood. For me See's candies were the beginning. To this day they remain one of my favorites. Judging by how they have expanded from just California to the rest of the country, I think other people agree with me. ...more on See's...