Home
---
Blog Archives
---
Shops
---
Cities
---
Books
---
Factories
---
Technology
---
Essays
---
About Us
---
Contact Us
Chocolate - A Bittersweet Saga of Dark and Light
Mort Rosenblum
---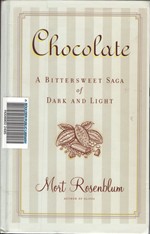 The great thing about adventures is that each little adventure can lead to others. One time I visited a shop in Oregon and found a book there that listed dozens of shops and stores in Oregon, Washington, and Vancouver. (Chocolate Arts in Vancouver became one of my favorite shops.) The great thing about books, besides leading to so many adventures, is how little they cost. If you find it in the library, like I did with this one, it costs no money at all. With premium chocolates clearing $50 a pound, a no money adventure is a welcome treat.

While not well sequenced, by the time you are done this book is a great introduction to the world of chocolate. I was aware of the process of chocolate and of some of the major names like Valrhona, Callebaut, Guittard. For this book Mr. Rosenblum travels the world visit all the major centers of chocolate. Beans are grown within 20 degrees of the equator. Pods are cut from the trees. Beans are fermented and dried near where they are grown. The beans are then shipped to major chocolate manufacturers where they are roasted, ground, and turned into chocolate. From there they either go direct to consumers or to makers of chocolates. (The distinction between chocolate and chocolates is covered in Chloé Doutre-Roussel's book The Chocolate Connoisseur. (That will be linked when I write about it next.) Chloé was Mort's advisor for this book.)

Mr. Rosenblum visits with growers in Central America and Africa. We learn that, because of the heat and the distance from the processing centers, most growers in Africa have never tasted the finished chocolate products. Some areas are so poor they ferment the beans in piles on the ground and then spread the beans on the highway to dry. If they ever get more traffic in those countries they can just leave them on the highway and take care of the roasting and grinding as well.

We also get tours of several major manufacturers. Valrhona and Hershey don't let mere mortals inside their factories (anymore, Hershey used to. It was lots of fun to peek through a window at hundred gallon vats of molten chocolate being conched. There's one place I wouldn't mind being drowned in my work). I find the contrast between the secrecy of the large manufacturers and small one's such as Scharffen Berger, who still allow tours, interesting. (Scharffen Berger was just bought by Hershey. I wonder which one will change.)

Lastly we get an introduction to an assortment of key names in the industry. Cluizel, Richard Donnelly, Amedei, Felchlin, Claudio Corallo, La Maison du Chocolat, and a host of others. Each one leads to a story and some chocolates you want to try. You might not find them, but you will want to try them. So far I have met a Cluizel sampler in a pasta shop in Berkeley and Amedei bars at Fog City News in San Francisco. I visited Richard Donnelly in Santa Cruz. I still have half a box of his chocolates in the freezer. (I will link those as I write about them.) The other names remain adventures for another day.

Getting personal insights into the lives of chocolate people at every step gave me a greater appreciation for the tasty delights I regularly enjoy. Between this book and Chloé's book I now take more time to enjoy chocolate. I don't eat less of it yet, because I am still trying so many new chocolates. There are moments though when I am able to get much more pleasure out of smaller amounts of good chocolate.
---
Book Details
Yes, I do get referral fees if you buy from the Amazon links below. I promise to spend them all on more chocolate to write about. And I do find the prices very competitive, especially if you buy $25.00 worth and qualify for free shipping. You can also just follow the links below to read more about the book, or reviews from other people. When you get to Amazon you have to click on the title of the book to get to the official page. I just discovered these links take you to a sales oriented page.