Home
---
Blog Archives
---
Shops
---
Cities
---
Books
---
Factories
---
Technology
---
Essays
---
About Us
---
Contact Us
Jin Patisserie
Venice, CA
---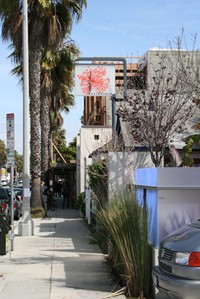 Your first mission, should you choose to accept it, is to actually find Jin Patisserie. I printed out the map on Yahoo without printing out the larger map. I knew it was located at 1202 Abbot Kinney Blvd, in Venice, CA. Now Venice is famous for its beach, and in particular its outdoor weightlifting area that is featured in so many movies and TV shows. Venice is also an "unincorporated city." Unincorporated turns out to be a fancy term for "does not appear on a map of the area." If you are viewing a map of the area, Venice is just South of Santa Monica and North of Marina Del Rey.

Your second mission is navigating the street. I did not print out the driving directions and that might have helped. Abbot Kinney is a street with almost no perpendicular store signs. Thus you cannot read a store sign until you are in front of the store. That is why it helps to know that Jin Patisserie actually has a small orange sign as shown in the picture. It is visible on the right (ocean side) as you drive South-East along Abbot Kinney. Once you find it you can park anywhere. The street turns out to have a lovely selection of shops. About two blocks North of Jin is a restaurant call Joe's that serves a lovely lunch. I hear it serves a lovelier dinner, but I did not get to try it. (There is a fixed price tasting menu for about $65.00, plus a regular menu. A friend recommended the Mushroom Ravioli. She said it was "to die for." I prefer "to live for" myself.)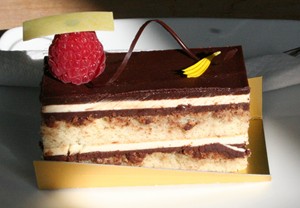 If you go to Jin Patisserie remember that it is a pastry shop that makes chocolates. If you have read about them in magazine reviews it is usually for their chocolates. If you have seen them on Food TV it was probably for their pastries. (Warren Brown on Sugar Rush did a piece on Kristy Choo, the pastry chef there.) On their website they bill themselves as a "pastry boutique and tea garden." Entering the place you pass through the gates into a little outdoor garden dining area. You go through there and up the steps into a tiny little shop. I wish I could have photographed the inside. It features a beautiful, wall-mounted, curved pastry case. It is almost like an art gallery. Well, an art gallery that only holds about four people. (The Food and Wine article in their web site press section has a small picture of the inside of the shop.)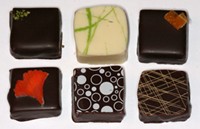 At the cash register there is a small case with a small display of chocolates. I heard someone mention that is was a small chocolate experience and when I saw that case I understood. Their line is about 21 pieces. They are about one inch square. Stacked 10 to a row, that only gives 210 square inches of chocolate. And if someone is paying at the register you cannot see any of it. Sigh! (When I write up Compartes, also in LA, I will link here to their wall-of-chocolate case for contrast.)
What made this place special for me though was deciding to sit in the garden and eat the cake shown above. Here I was in the middle of chaotic Los Angeles, on a quiet street, behind a large fence, in a lovely garden, with the sun shining, savoring a beautiful chocolate-glazed cake, with two stylish chocolates on the side. Tranquility amidst chaos. I loved it!
I have only tried a couple of the chocolates. They are strong on asian flavors. Lemon grass, jasmine tea, lychee, and mango kalamansi (a sour lime) are some of the flavors. I just dug my last two pieces out of my freezer to taste. One is called Green Jasmine on the web site, but has an orange flower on it(?). The other was of the espresso variety. I could not find a name that matched on the web site, so it could have been an exotic tea for all I know. Both had an exquisite smooth texture and a good balance of flavor, chocolate, and sweetness.
Based on the packaging they make beautiful gifts. The overall presentation is very elegant and tasteful, in more ways than one! At about $96.00 a pound, the price for a chocolate person is a bit steep. For an experience though, they offer many options. When I go back I will not order flavors I am familiar with (such as Ginger or Cinnamon). I think I will try some of the more unusual flavors such as the Black Roasted Sesame or the Red Caramel Clove. I now know the basic chocolates are good, so I might as well enjoy the exotic experience.
---
Technical Details
Website: www.jinpatisserie.com
Price: $2.00 per piece (in store), box prices vary
Pieces: About 48 or more per pound (2 recent pieces weighed 5/8 oz.)
Product Line: ~21 pieces, pastries and cookies.
Location: 1202 Abbot Kinney Blvd., Venice, CA 90291 -- 310-399-8801

Personal Favorites
1) Staring at the pastry case trying to make up my mind. :-) 2) While dining I kept noticing waiters going by with really fancy looking plates. It turns out they serve something called "Afternoon Tea." It features tea and a plate of assorted pastries. If I go back I plan to order that, even though I am not really a tea drinker. It looked like quite a bargain. (And like a certain famous Bear, I have a keen eye for a bargain.)