Home
---
Blog Archives
---
Shops
---
Cities
---
Books
---
Factories
---
Technology
---
Essays
---
About Us
---
Contact Us
See's Candies
---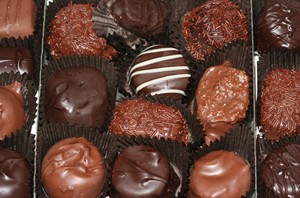 You know how baby birds will imprint on their mother when they crack out of a shell? I think every one has a chocolate imprinted on them. It is a significant chocolate from childhood. See's is mine. Every year at Christmas we got a box of See's. Mom quickly snatched the Scotchmallow® and the kids got to pick from the rest. The Scotchmallow® is a honey caramel topped with a layer of marshmallow and covered in dark chocolate. It always helps to learn to recognize your favorites. That gives you an edge when you meet an open box. The Scotchmallow® is the one in the middle of the bottom row in this picture. You can also view a Scotchmallow® on the See's website.

Whenever I visit a See's shop I have favorites I always order. The Scotchmallow® is actually not tops on my list. Most large shops such as See's carry a wide assortment of chocolates, and sell a variety of assortments. See's carries Nuts and Chews, Soft Centers, Milk and Dark Assortments. Rarely do you find a chocolate that gets its own box. Ethel M makes a Lemon Satin Cream that was the first chocolate I knew of to graduate from mere assortment to privileged piece. See's makes a Milk Bordeaux™ candy that I recently learned has its own assortment. It is a delicious, slightly oversweet brown sugar butter cream. I recently was reminded that they make a dark chocolate version as well.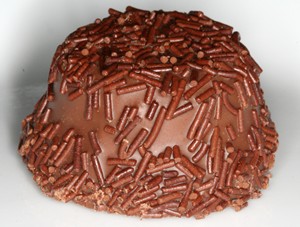 I recently got a new macro lens and a special flash just for taking close-ups of chocolate. The picture of the Milk Bordeaux™ has become one of my favorites. (You might be able to guess that from its appearance in the corners of a couple of other pages on this site.) When I was looking at the pictures for these pages I could not figure out what I liked about the See's pictures. Then I realized there were no fancy colors. Every color or tone was that of chocolate, either Milk, Dark, or White. That pretty much describes See's. The shops are a clean black and white. The candy is a simple, elegant chocolate at the great price (2006) of $14.10 pound. That is why they keep winning best buy awards every year.
Whenever I go into a shop I always search for what I think they do better than anyone else. I already mentioned the Milk Bordeaux™. They also make a Blueberry truffle that beats any other blueberry candy I have met. It features a dark shell that covers a rich blueberry filled butter cream. Should you have kids they also feature some tasty gourmet lollipops. And, oddly enough, they sell a tin of Mixed Nuts that is better than the nuts I find at places that specialize in nuts.
---
Technical Details
Website: www.sees.com
Price: $14.10 per pound
Pieces: About 22 per pound
Product Line: ~86 pieces, plus mixed nuts and assorted bars and specialty candies.
Locations: 30 states, Hong Kong, Japan. See listing on website
Tips: Costco has two packs of gift certificates for sale. Most major airports in California have kiosks in the terminals.

Personal Favorites
Milk Bordeaux™, Scotchmallow®. Cashew Brittle, Polar Bear Paw, Blueberry Truffle, Scotch Kiss, White Mint Truffle, Cocoanut, Orange Cream, Mixed Nuts.